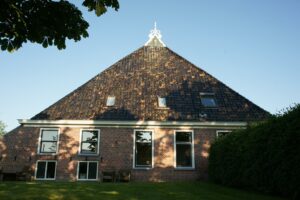 You will have your own entry. The Farmcottage surface is more than 220 m2. Outdoor you will find a cozy terrace and a big playfield.
Your holiday-home is situated in a former farm. The living is situated in the former milk-cellar. The kitchen is comfortable and warm. At the other side of the corridor you will find the bathroom and a separated toilet. The bathroom has a big bath, separated shower and a double washing table.
The first little (original) stair will take you to a romantic sleeping room with 2 wonderful beds. Further above it gives four other sleeping rooms, each with 2 beds. So, a total amount of 10 beds. On one room there will be a bunk for eventual extra persons. Also, You will find another toilet, shower and washing table.
You see that this is a perfect stay for more people. For example two families or a group of friends. You can always find your privacy. But off course also for your own family.
Then you'll have a luxury holiday. To understate that holiday feeling: the beds are whole made and there are also towels for bathroom and kitchen.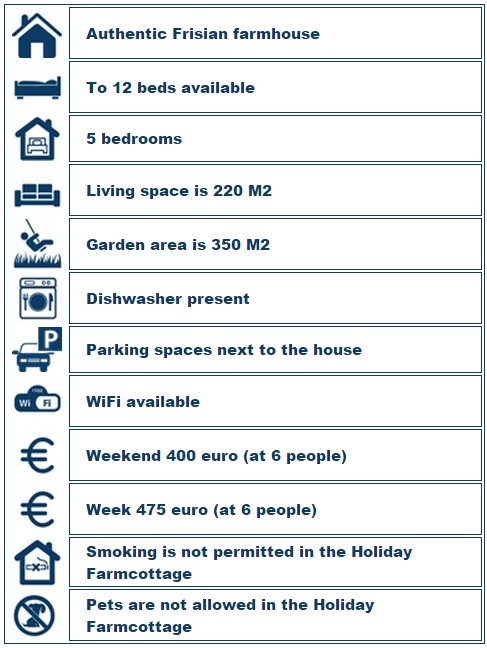 To complete Your stay, You will have the possibility to rent a hottub. In the winter it is very warm and in the summer You will have a nice cold bath.
You also have the possibility in the summer to rent some canoes.
House pets not allowed.
Surroundings Ruigahuizen / Friesland
Ruigahuizen is a small place in Gaasterland. 1 km from the woods and 1 km from a little beach on the Slotermeer lake. In front of the farmhouse runs the little river Luts, part of the Eleven Cities skating marathon route.
The property is walking distance from Balk where you will find various places to eat, shops and catering establishments and also bicycles, boats and canoes for hire. The region has a wide range of leisure amenities and large areas of countryside, all these facilities being within walking distance, approximately 500 m.
If You will meet Gaasterland even better, You have the possibility to rent solexes. Take a look at: www.solexverhuurfriesland.nl
For more information about the surroundings:www.waterlandvanfriesland.nl